Coaches will tell you that there is no such thing as a perfect game. And realistically they are right. You can always find something you could have done better. But after their 93-71 win against Illinois Thursday night, Dennis Gates it's going to have to look damn hard. Or so you would think.
"No, we didn't play well. I'm serious," Gates said. "The whole 40 minutes we didn't play well… There are little things you might not see with the naked eye that we didn't execute."
I understand, coach. You're trying to keep your kids grounded. You're never as good as your best day or as bad as your worst, you don't believe your critics or your fans, all that stuff. So I understand what Gates has to say. But to my untrained eye, the Tigers were damn good. Illinois coach Brad Underwood he thought so too.
"Tons of credit to Missouri," Underwood said. "I was awful as a coach preparing these guys. They overtook us, they defeated us, they took the ball from us. Kobe (Brown) he was arguably the best player on the court in this game. Again."
The Tigers won this one in the first half. They led 51-27 after 20 minutes. They were shooting 58.8%, including 16 of their last 23 shots. They had held Illinois to 31.2%, including a more than eight-minute stretch without a field goal. Missouri made 6 threes-for-13, Illinois 1-for-15. The Tigers had 19 points on nine Illinois turnovers (yeah, that's more than two points every time Illinois shot it), the Illini didn't get a single run on just two errors by Mizzou.
GET THE INSIDE SCOOP EVERY DAY WITH YOUR PREMIUM MEMBERSHIP!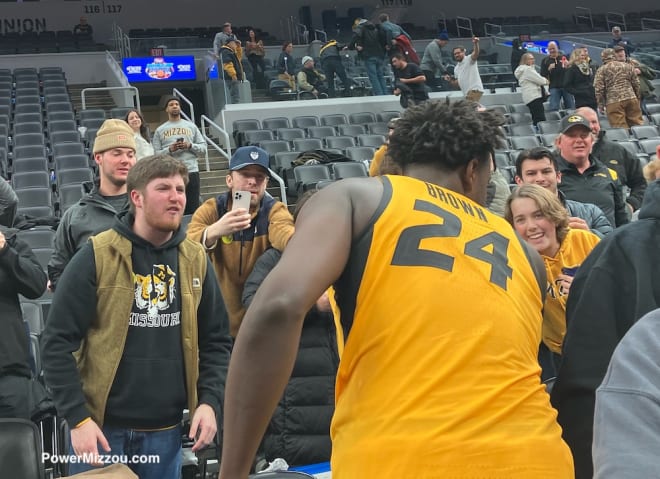 He was about as perfect as half of basketball can be. And then it got even better. By the under-16 timeout of the second half, Missouri led by 30.
Then it got a little better than that. Three Gomillions crushed twice. Nick Honor went chest to chest with Terrence Shannon. Mizzou led by 35.
Somewhere in those first 28 minutes, Mizzou redefined what can be.
The NCAA tournament is no longer a dream, it's a goal. And it is a realistic goal. The Tigers are 11-1. The only loss is against fourth-ranked Kansas. But they just countered that with a 22-point victory over a team that entered the game in 16th and had already beaten Texas when the Longhorns were in second place.
Is Illinois struggling right now? Safe. Underwood hasn't been happy with his team for a couple of weeks and they could drop out of the top 25 next week. But it does not matter. This night wasn't about Illinois. It was about Missouri and a basketball renaissance that is way ahead of time right now.
The Tigers had never beat Illinois by more than 18 points in this game. They led nearly double at one point and set a new Braggin' Rights standard for margin of victory. Brown had career highs in points (31) and assists (8) and tied his career high in steals (4). D'Moi Hodge he looked like a player who should have been in the SEC right out of high school rather than having to take detours to prove himself first at State College of Florida and Cleveland State. Honor went toe-to-toe and face-to-face with any member of the Illini interested in challenging him.
Missouri is almost certainly not a top 15 team in America. Not a night in and a night out. But Thursday proved it could be the night. Because this effort may not have beaten Kansas, but it would have been much more competitive. The ceiling for this group is much higher than we thought a few hours ago.
For the first nine games this season, Mizzou fans have shown cautious optimism. Sure, they're better than last year, but that's a low level. But now? After Thursday night? Now we wonder how good they can be.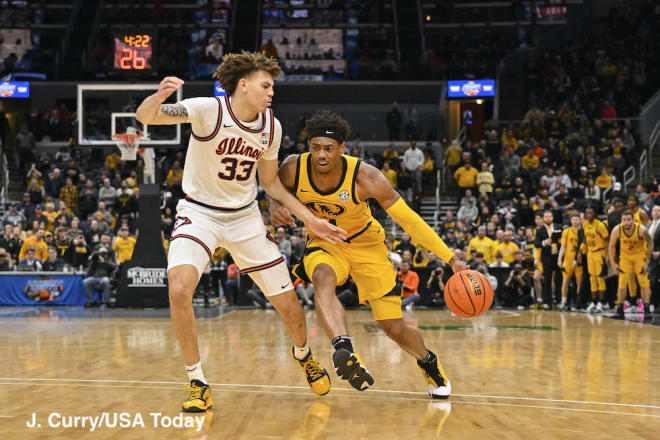 They are 3-0 in matches on neutral venues. They have a win over a ranked team. They are the fourth highest ranked team in the country. They are fourth in effective field goal percentage, third in transition scoring, and 15th in assists-to-turnovers ratio.
And, don't look now, but they really might be able to play defense.
Missouri has 11 wins with 20 guaranteed games. If the Tigers manage to win half of it, they will almost certainly make the NCAA Tournament. And it might not take that many.
Is it too early to start the countdown to tournament eligibility? On the one hand, of course it is. We're about a third of the way through the season. But for a team that's only made it two tournaments in the last nine seasons and hasn't won a game at the Dance in 4,661 days, hell no, it's not too soon. Put a clipping of Kim Anderson and snatch a chunk with every win, Major League style. Well, on second thought, maybe not really.
People are starting to take notice. Missouri jumped to 43rd in KenPom, up 16 spots from where it was after beating UCF on Saturday and certifying the right side of bubble territory. The NET rankings won't be updated until morning, but the Tigers' first win of the season in Quad 1 is sure to bump them up from 65 there as well. Nationally, those who follow basketball have taken notice.
Again, not that Gates cares.
"I don't read Twitter like that. I run our program as a CEO as well as I can," she said. "I don't do things for opinions.
"I'm proud of our growth."
Gates stressed that this team needs to improve. He chastised Hodge sitting to one side of him for missing too many free throws. He told Brown that he still wasn't impressed enough with the elder's leadership. He made it clear that no matter how happy his team might have made Christmas for Mizzou fans, his team is not where he wants it to be.
"We haven't played well yet," he said. "I expect more."
More would be great. But even more than that would be good enough. Certainly enough to keep us all interested in early March. And that's something we haven't been able to say often enough lately.
Stay up to date on all Mizzou news with your premium membership
Discuss this story and more in The Tigers' Lair
Make sure you stay up to date with all Tiger news and headlines
Subscribe to our YouTube channel for video coverage and live streaming