It's Christmas, so it's usually time with family, an opportunity to enjoy loved ones, and in some cases, a gift exchange. During the holiday season, the Tide Illustrated staff wanted to collect some wishes from Alabama fans for Christmas next season.
Alabama just wrapped up a huge haul for 2023, but as we all know, the recruiting and college football season never stops, so neither do we.
Here's a look at the Christmas wish list illustrated by Tide: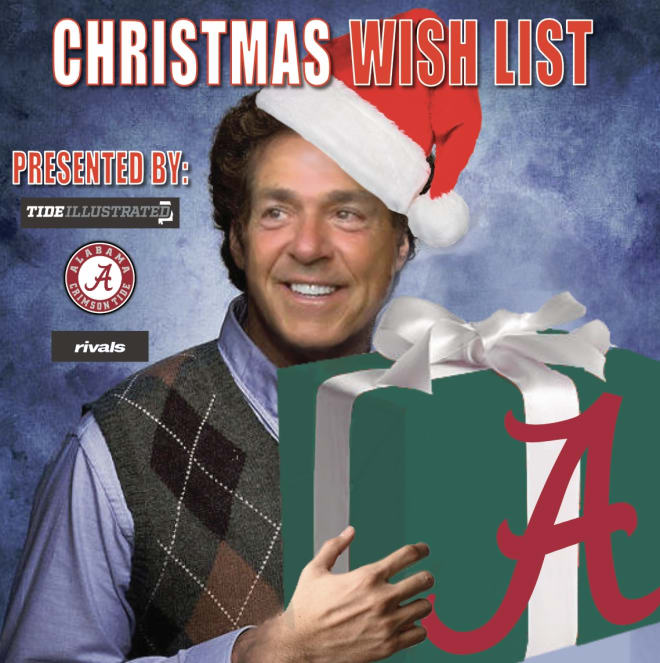 1. Bill O'Brien improves his game calling or just a change altogether.
Our very own Tony Tsoukalas wrote about a potential change, as O'Brien potentially prepares to move forward. It seemed like a common narrative from Alabama fans that offensive play calling could have been better during the past two seasons. Now that Bryce Young's time in Tuscaloosa is almost up, it will be interesting to see the offensive game plan.
2. Find a starting quarterback quickly
I think 1 and 2 are directly intertwined and if O'Brien moves forward he will play a role in the current development within the roster. Alabama is set to return several prospects to the quarterback position (Ty Simpson, Jalen Milroe, Eli Holstein), with Dylan Lonergan set to hit the campus in short order.
It should be an uphill battle coming into the field, with Simpson said he has more edge, while Milroe has playing experience, starting against Texas A&M last season. Another option could be Alabama diving into the Transfer Portal for the quarterback game, but that doesn't seem like the most likely option unless the right name comes in.
3. Reload on defense
Alabama's defense returned its fair share of talent last season; Having said that, there were times when the defense didn't play at the level we are used to.
With a historic addition to the tide in the 2023 class, a solid mix of depth, competition and potential starters are expected.
Players such as Keon Keeley, James Smith, Qua Russaw, Justin Jefferson, Caleb Downs and Desmond Ricks should all try to contribute, with others in the class vying for their opportunities.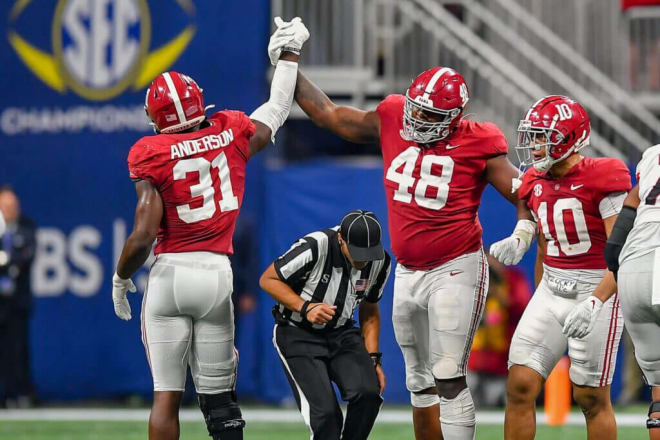 4. Another #1 ranked recruiting class
It was slow and steady for the tide until about July; things got crazy. Alabama always recruits well, but the way this class has come together has old-school Nick Saban recruiting vibes.
They finished with three Five-Star recruits (Kadyn Proctor, Desmond Ricks and Keon Keeley) in three weeks paired with the addition of two coveted Four-Stars in the state (James Smith and Qua Russaw) on signing day, as well as keeping some another in -potential state being courted by multiple programs (Tony Mitchell).
Alabama jumped into the lead in October and has never looked back, earning the honor of being the top class in the nation by meeting multiple needs in the process. This group seems hungry and ready to prove a point; if they come into play like that… the opportunities are endless.
5. A playoff berth and a national title
Based on how the national media reacted to Alabama's two losses last season, one could never tell, but the Tide are only two years away from a national title. Even more, Alabama still had a late opportunity to make it. All in all, Saban doesn't take criticism well, as shown in the latest recruiting course.
As anyone should expect, the Alabama staff will do whatever it takes to put together a title-ready team in a year, next season, when many other programs face QB changes (Ohio State, Georgia, Oregon and Florida, just to name a few ). Look for Saban to be very practical this offseason, pushing this Alabama roster to the limit and setting him up for a season bound to silence all doubters.
A championship program is not built overnight, but with education and care. Saban has worked hard to build the culture over the years, and if Alabama's pulse was to be shown in any way, getting two of the NFL's top picks to play your Bowl game speaks volumes.
This incoming squad should be hungrier than ever, and with the right moves this offseason and arguably the best manager of all time, it's hard to bet against the tide.